FAQ on Farmall Cubs
---
Original version written by Bob Brooks Subsequent updates by Jim Becker Last update December 2006
Frequently Asked Questions about Farmall Cubs.
1) What is a Farmall Cub?
2) Which model Cub is the right one for me?
3) How do I identify the year of my Cub?
4) Is there any way to determine the year of my Cub if the tractor serial number plate is missing?
5) How much horsepower does my Cub have?
6) What do I need to be able to maintain a Farmall Cub?
7) Are parts available?
8) What can I do with a Farmall Cub?
9) What additional items do I need to mount implements on my Cub?
10) What things should I look at when inspecting a Cub for possible purchase?
11) What does a Cub weigh?
12) Is it safe to operate a Cub on a hillside?
13) Tractor Serial Number List
More FAQs can be found on page 2:
Less Frequently Asked Questions
Additional implement pictures can be found on the implement page:
More Implement Pictures
Additional Cub information is available in the TM Tractor Parts web site:
TM Tractor Parts Help
1) What is a Farmall Cub?
International Harvester manufactured the Farmall, or International Cub from 1947 through 1979. Cubs were manufactured during this period in two major variations. The Standard Cub, and a Lo-Boy version. The Lo-boy was introduced into the line in 1955, the Lo-Boy utilized a front end with shorter spindles, and rotated the rear final drive housings 90 degrees to lower the machine about 8 inches.
All models were mechanically similar, with a 4 cylinder in-line water cooled L -head engine designed and built by International Harvester for the Cub. All Cubs were "Row Crop" models, wide front end, with a wide adjustable front end available as an option. The rear wheel tread was adjustable by changing the way the rims bolted to the wheel disks, and how the wheel disks bolted to the rear axle. All models had a 3 speed transmission, separate left and right wheel brakes and foot operated clutch. With 12″ front wheels, 24″ rear wheels and Ag style tires standard, other wheel sizes and types were available as an option.
All Cub tractors manufactured prior to serial number 224401, and Lo-Boys prior to serial number 18701 utilize a 6-volt POSITIVE ground electrical system, this was changed in mid 1964 to a more modern 12 volt negative ground system. The generator based charging system was replaced with an alternator at serial number 248125
On 6 volt positive ground Cubs care must be taken to make sure the battery in installed correctly, POSITIVE CABLE TO GROUND. The other precaution is when jumping the tractor from an automobile or truck, make sure that there is no metal to metal contact between the tractor and the vehicle you are jumping from, as most modern cars and trucks are 12 volt negative ground. In any case, using a 12 volt battery to jump start a 6 volt system is generally considered an unsafe practice.
By the usual designation of the time, the Cub was considered a "single-plow" tractor, since plowing was considered the primary use for such machines. The Cub, as was typical of this generation of tractors, relied on the power train as the main chassis, with no frame whatsoever. All attachments and implements are attached to the hitch or to front and rear mounting points placed in the various power train castings.
While originally marketed as a replacement for a single horse during the accelerated agricultural mechanization that occurred after W.W.II, the Cub soon found favor with road departments, landscapers and estate managers due to it's simplicity, flexibility, dependability, and ease of use by people not familiar with traditional farm equipment. IH also actively marketed the Cub to people that were small acreage, and part time farmers. And like the Allis Chalmers G, a lot of Cubs ended up on vegetable truck farms.
Due to the significant decline in the number of small family farms in the US in the latter half of the 20th century, relatively few Cubs were still used in farming by the end of the line's manufacture.
Cubs can be found with McCormick, McCormick-Deering, Farmall, and International Harvester decals, but all of them were manufactured by IH. Most Cubs manufactured for the agricultural market were painted Harvester Red, a darkish red with silver rear wheel rims at the factory, but IH delivered them in many other colors at the customer's request.
Yellow with white wheel disks was a favorite color for tractors destined for various governments' landscaping chores, and in 1964 this color combination became the standard Cub colors. Seats came in two styles, the traditional "pan" seat, either plain or padded, and the "deluxe" seat, which has a cushion, back and optional arm rests, looking almost like an office chair. (Hardened old timers considered the deluxe seats to be for sissies – an attitude that continued when cabs were later offered on newer tractors.)
All Cubs combined the fuel tank and the hood into a single assembly which was bolted into place, somewhat limiting access to the top of the engine. Another limitation is the single casting, which combines the steering box, front engine mount and lower radiator tank. Damage to this casting can occur with operator carelessness and can be somewhat expensive to repair. New castings are not available from CaseIH, the inheritor of the International Harvester tractor business.
During this period you could buy the Cub with various options.
Major options included:
electric start
lights, front and rear
battery ignition vs. magneto ignition
PTO
Belt pulley
Touch Control (A full time hydraulic system driven off the engine)
Various tire sizes and types
IH Fast-Hitch (after tractor serial # 185001, mid 1954)
Optional Swinging Drawbar
The Farmall Cub series of tractors incorporated the "Culti-Vision" design, previously introduced with the larger Farmall A and B tractors. In the Cub, this was accomplished by offsetting the engine 8 inches to the left and the seat about 6 inches to the right. This improved the operator's field of view when using front or mid mounted equipment for precision farming.
In 1968 International introduced another series of tractors that was based upon Cub components. These tractors were not offset, and used a perimeter frame for support.
They are generally refered to as the Cub Lo-Boy series and replaced the offset style Lo-Boy. These tractors were manufactured through 1980, in 3 variations, the Cub 154 Lo-Boy, Cub 185 Lo-Boy and 184 Lo-Boy.
They were marketed towards the landscaping and grounds keeper industries, and most were sold with 60 or 72 inch mower decks. They utilized the same engine and basic transmission design, but implements designed for the earlier style Cub's will not work on these tractors. They also incorporated an electric clutch on the PTO. This was done to allow the machine to have live power to the mower decks.
2) Which model Cub is the right one for me?
Making your choice between a Farmall Cub and an International Cub Lo-Boy depends on what you want to use it for. The Farmall Cub has more clearance under the axles than the Cub LoBoy. It was designed for row-crop work. If your plans include much garden work or other tasks where ground clearance is required, the farmall Cub is for you. If you will be doing mowing, working around trees and other grounds maintenance, the lower profile of the Cub Lo-Boy may be a better choice.
Be sure to look below at the answer to "What can I do with a Farmall Cub?" for more help in selecting the right model.
3) How do I identify the year of my Cub?
Cub serial numbers are on a plate attached to the steering gear housing on the right side of the tractor.
The engine serial number is stamped on the left side of the engine crankcase to the right of the carburetor.
Note: Engine and tractor serial numbers maybe different, IH used this engine in other applications.
A tractor serial number list is included at the end of this FAQ.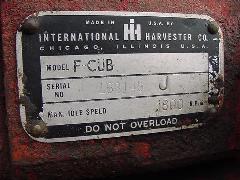 Serial Number Plate – click to enlarge
4) Is there any way to determine the year of my Cub if the tractor serial number plate is missing?
In that case, there may be no way to determine the year with any certainty. The engine serial number may provide a general reference. Another method for approximating the age of the tractor is by deciphering the casting codes on some of the major castings.
This is not any easy task and is best left to someone with the necessary documentation and expertise to perform this task. We have quite a few ATIS members who would be more than happy to help you research this.
I would suggest that you copy down the casting numbers of all of the major castings and post an Email message to the ATIS list with the casting numbers, requesting help identifying the year of manufacture. You can also post a question to the ATIS Farmall Cub Internet Discussion Board requesting help.
Additional information and pictures to help identify your Cub can be found on the TM Tractor Parts How to Identify Your Tractor page.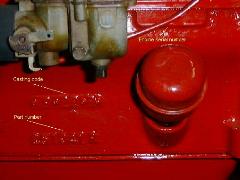 Cast in Date Code – click to enlarge
5) How much horsepower does my Cub have?
When the cub was first introduced in 1947, it produced about 8.5 drawbar horsepower in the Nebraska tests, Test Number #386
Through the years there were a couple of changes to the engine, and later Cubs produced about 14 drawbar HP.
The changes that account for this HP increase were an increase in compression ratio, due to a piston change, and an increase in Idle, Max. speed to 1800 RPM, from the original 1600 RPM. There was also a change in the carburetor design, which may have affected the HP slightly.
6) What do I need to be able to maintain a Farmall Cub?
International Harvester designed the Cub to be used as a first tractor on farms that had previously depended on horses for their only pulling power. The tractor was engineered to be very easy to maintain, and to have a minimum of required maintenance.
A Cub can be maintained with normal hand tools. Your average small mechanics/ homeowner tool kit, will let you perform 95% of any required service.
And in fact when new, Cub's came with grease gun, wrenches, and a spark plug tool as standard equipment.
As with any piece of equipment, you need to make sure that the tractor has all of the necessary fluids. These include water /antifreeze in the radiator, engine oil, hydraulic oil and lube in the transmission, and final drives.
I would suggest that you get a copy of the Operators manual, the Parts manual and the Cub Service Manual. These are available from CaseIH Dealers as well as various suppliers of parts for antique tractors. Some of these companies have links on the ATIS Web site.
7) Are parts available?
Just about every part you will need to service and maintain a Farmall Cub, is available from your local CaseIH and Cub Cadet Dealer, your local auto parts store, mail order parts house, or a dealer that specializes in parts for antique tractors.
The Farmall Cub was one of the most popular tractors of all time, with nearly 1/4 million standard Cubs built alone. So there is a good supply of used Cub parts. The ATIS Web site has links to various suppliers of both used and new parts for these machines.
This table cross references some of the more common IH parts to parts available from some of the other sources. Numbers given here may not all be current. They should help identify current part numbers from your supplier. Seal numbers in bold print have been verified in an IH reference.
DescriptionIH Part NumberReplacement PartCommentSteering (group 5)&nbsp&nbsp&nbspSeal, Steering Wheel Shaft 385703R92 CR 8677, CR 545294,
Tecumseh 788031 &nbsp&nbsp&nbsp&nbspSeal, Worm Wheel Shaft 370510R91 CR 11066, National 50151-S
National 50151S54,
CR 11083BT &nbspDrive Train (group 7)&nbsp&nbsp&nbspSeal, Transmission Input 528810R91 National 474250 Use old retainer.&nbsp&nbsp&nbspSeal, PTO Shaft 126107C1
351271R91 CR 11223
Federal Mogul 470712
National 470712 &nbsp&nbsp&nbsp&nbspSeal, Outer Differential Shaft 381907R91 CR 16118
National 16117, 471419
NAPA 16117
National 481419SSR,
CR 16117BT In final drive housing.&nbsp&nbsp&nbspSeal, Inner Differential Shaft 385872R91 CR 10681
National 480049SSR
National 450043
National 480043SSR In differential retainer.&nbsp&nbsp&nbspSeal, Rear Axle, Outer 350822R91 National 21211, 473468
National 6180SSO Use old retainer.&nbsp&nbsp&nbspSeal, Rear Axle, Inner 382220R91 Federal Mogul 472070
National 14702, 472070
CR 18104 (use 2)
National 470267SSR
CR 512309BT Right side, not on Lo-Boy.&nbsp&nbsp&nbspBearing, Transmission Input ST542 SKF 60052RS &nbsp&nbsp&nbsp&nbspBearing, Trans. Upper Rear (early) 352402R91 Bower R1518E &nbsp&nbsp&nbsp&nbspBearing, PTO and Belt Pulley ST225B SKF, FAG & others 6205 &nbsp&nbsp&nbsp&nbspBearing, Trans. Lower Rear 350857R91 Hyatt A1206TS &nbsp&nbsp&nbsp&nbspBearing, Rear Axle Outer Cup ST973
350812R1 Timken 26822 &nbsp&nbsp&nbsp&nbspBearing, Rear Axle Outer Cone ST2047
350811R91 Timken 26882 &nbsp&nbsp&nbsp&nbspBearing, Rear Axle Inner Cup 350809R1 Timken 15244 &nbsp&nbsp&nbsp&nbspBearing, Rear Axle Inner Cone 350808R91 Timken 15120
Bower BCA 14138A &nbspElectrical (group 8)&nbsp&nbsp&nbspStarter Switch 1922609 Echlin(NAPA) ST-500 Engine (group 12)&nbsp&nbsp&nbspSpark Plugs RD18Y Champion D-21
AC C86 Light Service, gap .023&nbsp&nbsp&nbspPoints 353172R91 Borg-Warner H54
Echlin(NAPA) CS1600 Battery Ignition, gap .020
Magneto, gap .013&nbsp&nbsp&nbspCondenser 353903R92 Borg-Warner HG5 Battery Ignition
Magneto 81411 up&nbsp&nbsp&nbspCondenser 354136R92
251539R91 &nbsp Magneto 501 to 81410
Use 353903R92&nbsp&nbsp&nbspCap 351693R92 Borg-Warner HC2
Standard IH-430 &nbsp&nbsp&nbsp&nbspRotor 353896R91 Borg-Warner HR2 Battery Ignition&nbsp&nbsp&nbspRotor 351692R91 &nbsp Magneto&nbsp&nbsp&nbspCoil 395331R92 Standard IH-10 12 volt&nbsp&nbsp&nbspCarburetor Needle Valve 251300R21 Kohler 25 757 02 Neoprene tipped valve fits IH carburetor.&nbsp&nbsp&nbspFuel Strainer Screen 49923D Balkamp(NAPA) 730-2373 &nbsp&nbsp&nbsp&nbspFuel Strainer Gasket 360679R1 Balkamp(NAPA) 730-9506 &nbsp&nbsp&nbsp&nbspOil Filter 376373R91 AC P-321, Fram C-235
NAPA 1153, Wix 51153
Purolator L2008 or L2009
Fleetguard LF-672 &nbsp&nbsp&nbsp&nbspHead Gasket 251229R2 Fel-Pro 7560S &nbsp&nbsp&nbsp&nbspTiming Cover Gasket Set &nbsp Fel-Pro TCS45115 &nbsp&nbsp&nbsp&nbspEngine Overhaul Gasket Set 381732R91 Sealed Power 260-1419 Contents may not match IH package.&nbsp&nbsp&nbspSeal, Rear Crank 364692R91 CR 29887
National 355526 &nbsp&nbsp&nbsp&nbspSeal, Front Crank 378193R91 CR 19226
CR 19229 &nbsp&nbsp&nbsp&nbspSeal, Governor Rockshaft 361123R91 SKF 3719
NAPA 3719 &nbsp&nbsp&nbsp&nbspSeal, Magneto Drive 251379R91 National 450313 &nbsp&nbsp&nbsp&nbspPiston Ring Set 539354R1 Federal Mogul 50-98X Standard or oversize?&nbsp&nbsp&nbspCrankshaft Pinion Gear 251265R1 Sealed Power 221-5203
Melling 5203 Timing gearSuspension (group 14)&nbsp&nbsp&nbspSeal, Front Wheel 350769R91 NAPA 14896
CR 14896
National 6312 &nbsp&nbsp&nbsp&nbspBearing, Front Wheel Outer Cup 350775R1 Timken 17520 &nbsp&nbsp&nbsp&nbspBearing, Front Wheel Outer Cone 350774R91 Timken 17580 &nbsp&nbsp&nbsp&nbspBearing, Front Wheel Inner Cup 350772R1 Timken 15520 &nbsp&nbsp&nbsp&nbspBearing, Front Wheel Inner Cone 350771R91 Timken 15580 &nbsp
8) What can I do with a Farmall Cub?
International Harvester manufactured a large variety of attachments for the Cub series of tractors.
There were also attachments manufactured for these tractors from various equipment manufacturers.
Hitches for the Cub come in 3 different variations.
Standard Drawbar and an optional swinging drawbar
IH single-point Fast-Hitch
Category 0/1 3 point hitch.
The standard method of attaching implements to the Cub is the quick attach system that uses conical headed bolts and slots incorporated into the attachment frame. Cubs that utilize this system have a solid drawbar that spans from one final drive housing to the other. Implements are either bolted to this drawbar, or the drawbar is removed and they are bolted directly to the tractor.
Note: Many of the quick attach type implements were designed only for use with the Farmall Cub. This was typical of most of the row-crop and tillage equipment including most plows, cultivators and planters. Most of the other implements were built in two different designs, one for each model tractor. The mowers and blades are examples of implements designed for each model tractor. Most of these implements can not be readily moved from one model tractor to the other.
The optional single point Fast Hitch system was developed by IH to provide an easier method of attaching rear mounted implements. This system has a large socket centered on the rear of the tractor that a corresponding prong on the implement slides into.
Note: Many of the Fast-Hitch implements for Standard Cub and Low-Boy Cub are different. This is due to the height difference between the 2 tractors. There are also differences between Fast-Hitch implements designed for Cubs and for the larger series IH tractors. So when buying Fast-Hitch implements you have to be sure you are buying implements designed to work with your specific tractor model.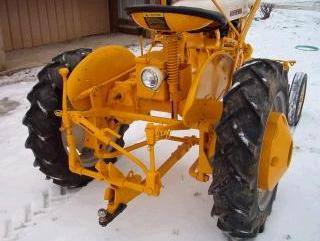 Fast Hitch on Standard Cub
Aftermarket suppliers have also produced a standard Category 0/1 3-point hitch for the Cub. This hitch is generally only useful for non-powered implements, due to limitations on the Cub PTO. The PTO is non- standardized, running counter clockwise at engine speed, approx. 1800 RPM vs. the standard PTO which is 540 RPM with clockwise rotation. The PTO shaft on the Cub is also smaller, with a different spline. Therefore any powered attachments, need to be Cub specific versions. This 3-point hitch also limits the maximum implement weight to 300 lbs.
Implements provided by IH for the Cub include:
Mowers: sickle bar, rotary, flail, gang (side, belly and rear mounted variations)
Plows: one or two-way moldboard, disk, harrow
Blades: snow and grader
Bean Harvesters
Cultivators: row crop, vegetable
Planters: rowcrop, vegetable
Middlebusters and listers
Fertilizer spreaders
Front end loaders
Platform Carriers
Posthole diggers
Buzz Saws
Tillage equipment: drag and disk harrows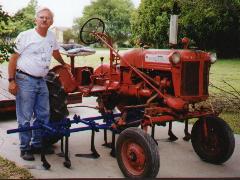 Vegetable Cultivator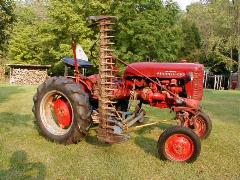 Sickle Bar Mower

Two-Way Plow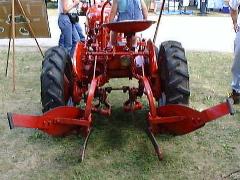 Two-Way Plow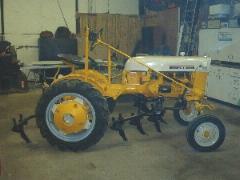 Row Crop Cultivator (the black parts)
Additional implement pictures can be seen by clicking on the following link.
More Implement Pictures
Many more implement pictures can be seen in the TM Tractor Parts web site:
TM Tractor Parts Gallery and Picture Archive
Aftermarket suppliers provided even more equipment for the Cub. Some of the better known suppliers include:
Gladden-Haas (dozer blade)
Henderson (loaders)
Howard ("Rotovator" tillers)
Mott (mowers)
Wagner (loaders)
Woods (mowers and blades)
Worthington (mower)
And many others.
9) What additional items do I need to mount implements on my Cub?
When the Cub was first introduced, there was no hydraulic system available. Mounted implements were all lifted by hand lift. The main attachment for this was the "master lift package." It bolted on top of the differential. It had a large lever, a counterbalance (lift assist) spring and a built in rear rockshaft. This directly provided lift for any rear mounted equipment. To go with this, there was a front rockshaft available that bolted to the bell housing below the gas tank. A rod ran forward from the master lift package to operate the front rockshaft. Front or mid-mounted equipment attached to the front rockshaft to lift them.
Shortly, the Touch Control hydraulic system was introduced. The Touch Control system mounted on the bell housing and included a rockshaft that was functionally equivalent to the hand lift front rockshaft. There was a rear rockshaft available to go with the Touch Control. This mounted in the same place the master lift package was mounted and provided the same functionality via a lift rod that connected to the Touch Control rockshaft.
Portions of equipment that were reused with multiple models of equipment were refered to as "common units." Another common unit for the Cub was the front mounting frames. These were a pair of parallel linkage frames that mounted in the square mounting hole just behind the front axle. These connected via a link to the front/Touch Control rockshaft. Thus the hand or hydraulic lift were used to raise and lower the working end of the mounting frame. The frame provided the mounting point for many of the front mounted implements, such as the cultivators and planters.
These were five separate attachemnts: master lift package, front rockshaft, Touch Control, rear rockshaft and front mounting frames. Of them, only the Touch Control was considered part of the tractor. The others were all separate attachments that were not shipped as part of a new tractor. Likewise, they were not considered part of the implement either. When, for example, the dealer ordered a Cub-144 cultivator, the mounting frames were not included with it. If they were needed, they had to be ordered as a separate item. This way, the customer that wanted multiple pieces of equipment for his tractor only had to buy one set of mounting frames. Likewise, the man who didn't need any didn't have to buy one set with the tractor.
Later on, Fast Hitch was introduced to ease the mounting of rear mounted equipment. This provided a common lifting frame and mounting point on the rear. To go with the Fast Hitch, a whole set of Fash Hitch equipment was introduced. In many cases, front or mid-mounted equipment were able to remain the same but others required some redesign due to the presence of the Fast Hitch. The introduction of the Cub LoBoy (with or without Fast Hitch) added more combinations to this picture. Many pieces of equipment can not be interchanged between a Cub and a LoBoy.
Today, when buying equipment to mount on a Cub, the buyer needs to beware of the potential need for the mounting and lifting attachments that he may need but that may not be with the equipment. It seems that the front mounting frames are often with cultivators, but they are less commonly found with other implements. The rear rockshaft is sometimes with a piece of equipment, often times not. Once in a while, a lucky buyer may have gotten one with his tractor. The buyer also needs to be careful that the equipment is the proper version for his particular tractor and the configuration of attachments on his tractor.
10) What things should I look at when inspecting a Cub for possible purchase?
Other than the usual things that you would check on any tractor or automobile, smoke from the engine, either from the exhaust or the breather, oil pressure, loose steering, tire condition etc.), these are some of the areas where you are most likely to find a need for repairs.
Check for freeze and stress cracks:
Engine block: high on the side, ahead of the oil filter, and at the front where block bolts to front casting, check both sides.
Head: on the top surface
Front casting: across the front, at the lower edge of the grille, or the horizontal surface directly in front of the radiator, also check for cracks just in front of where the casting bolts to the block. You should also inspect the area around the bolt holes, where the engine and casting bolt together, as the ears sometimes are cracked.
Check that the brakes work, that the brake drums have not come loose on the axle.
Check the transmission to see if it goes into each gear smoothly, and stays in gear when the tractor is moving. This is especially true of first and reverse.
Check that the PTO will engage, disengage and hold.
Check the final drive housings for cracks, areas prone to cracks are the flanges, where the housings bolt around the brakes, and attach to the transmission case, or the flange at the axle housing extension. I have also seen final drive housings with stress cracks at the top of the casting.
Try to make sure that all of the hardware required to mount any included implements is in fact included.
11) What does a Cub weigh?
A basic Cub as tested in the Nebraska test of 1947 weighs about 1300 lbs. This was a tractor with no starter, lights, battery, or hydraulic system.
Cub rear wheel weights weigh about 150 lbs. each, one piece front wheel weights are approx. 26 lbs. each and split type front wheel weights are approx. 25 lbs. each. The addition of calcium chloride solution in the tires can add an additional 300 lbs. or more.
Any additional equipment on the tractor will also add more weight. As you can see, a typical Cub can weigh in between 2500 and 3000 lbs.
When you transport your Cub, you need to figure in the combined weight, with everything you are putting on the trailer. In my case I figured about 3500 lbs.
ATIS has a very good FAQ about trailers and transporting tractors, that I would recommend to everyone thinking about moving a tractor with a trailer.
12) Is it safe to operate a Cub on a hillside?
Safety rules must be followed for the safe Operation of any equipment. The Cub was designed and built years before many safety features were incorporated on tractors or yard equipment. The Cub was originally designed for row-crop farming and thus was designed for more ground clearance that typical mowing tractors of today. Although it is safe to operate a Cub on reasonably sloped terrain, caution is advised. One should be particularly cautious about operating the tractor up a hill or with the left (engine side) on the downhill side. Stability can be improved by setting the rear tires to the wider positions. Generally, if it doesn't feel safe, it probably isn't safe.
13) Tractor Serial Number List
Farmall and International Cub Annotated Serial Number List by Jim Becker, revised December 29, 2001, all rights reserved
The pictures accompanying this serial number list are provided to help determine the age of Cub and Cub Lo-Boy tractors. The tractors pictured are representative of the time they were built. Many of these tractors have been restored but are not necessarily restored to their exact original appearance.
Original Style Farmall Cub. There were several changes to the decals used on these tractors, resulting in some minor differences in appearance. Also, at the beginning of 1950, IH had a demonstrator promotion where tractors were painted white. The color used was "whitecap white," the same shade that was used on IH trucks at the time. The exact serial numbers of the demonstrator tractors is not known, but it is believed to include serial numbers 99536-106511. IH expected the dealers to repaint these tractors red before they were sold. This was usually done, but occasionally an original white Cub can be found.
'47 501 – 11347'48 11348 – 57830'49 57831 – 99535'50 99536 – 121453'51 121454 – 144454'52 144455 – 162283'53 162284 – 179411'54 179412 – 185000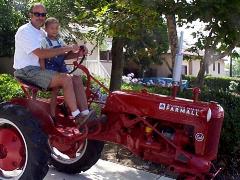 '47 Cub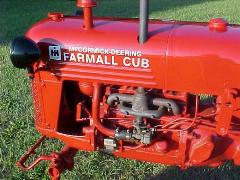 '47-'49 Cub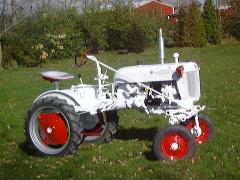 '50 Cub Demonstrator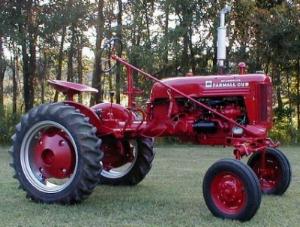 '49-'54 Cub
Restyled to match number series tractors. Cub Lo-Boy Introduced. Fast hitch introduced.
StandardLo-Boy'54 185001 – 186440 '55 186441 – 193657 501 – 2554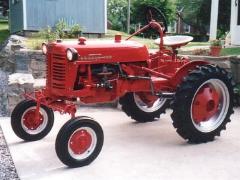 '54-'56 Cub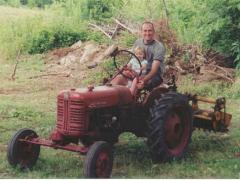 '55-'56 Cub Lo-Boy
White grill and hood sheet name plate background are believed to have been added during '56, probably at Farmall Cub 197825 and Lo-Boy 3772.
StandardLo-Boy'56 193658 – 198230 2555 – 3928'57 198231 – 204388 3929 – 6581'58 204389 – 210000 6582 – 10000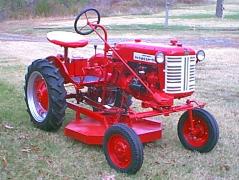 '56-'58 Cub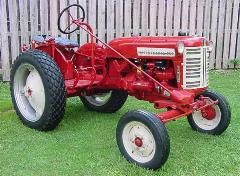 '56-'58 Cub Lo-Boy
Restyled, grill with large horizontal bars.
StandardLo-Boy'58 210001 – 211440 10001 – 10566'59 211441 – 214973 10567 – 12370'60 214974 – 217381 12371 – 13903'61 217382 – 220037 13904 – 15505'62 220038 – 221382 15506 – 16439'63 221383 – 222500 16440 – 17200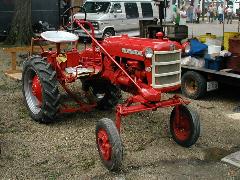 '58-'63 Cub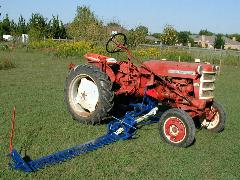 '58-'63 Cub Lo-Boy
Restyled, Squared Off Grill (August '63).
StandardLo-Boy'63 222501 – 223452 17201 – 17927'64 223453 – 224703 17928 – 19405
International Cub (Standard color Yellow/White) No evident Lo-Boy change.
Small number discrepency, change could have been one unit later.
StandardLo-Boy'64 224704 – 225109 '65 225110 – 227208 19406 – 21175'66 227209 – 229224 21176 – 23114'67 229225 – 231004 23115 – 24480'68 231005 – 232980 24481 – 25998'69 232981 – 234867 '70 234868 – 236826 '71 236827 – 238505 '72 238506 – 240580 '73 240581 – 242745 '74 242746 – 245650 '75 245651 – 248124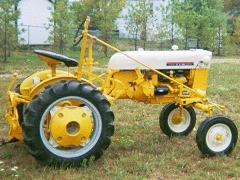 '63-'75 Cub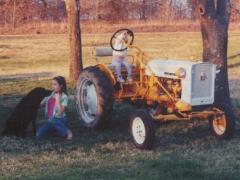 '63-'68 Lo-Boy
New International Cub Horsepower increased. Note that the parts book indicates that dome-top aluminum pistons were introduced with engine number 264568. This change would increase power. It seems likely that this engine number would have been used earlier than 1975. At serial number 248125, a larger carburetor came into use and other changes were probably made at the same time.
'75 248125 – 248617'76 248618 – 250831'77 250832 – 252108'78 252109 – 253135'79 253136 – 253685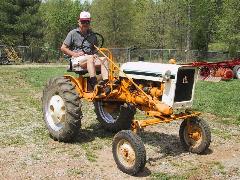 '75-'79 Cub
Although the following tractors were not offset designs, they were based on Cub components and replaced the offset Cub Lo-Boy. The numbers also look a bit suspect but they are the best we have available.
International Cub 154 Lo-Boy
'68 7505 – 8272'69 8273 – 15501'70 15502 – 20331'71 20332 – 23342'72 23343 – 27537'73 27538 – 31765'74 31766 – 36676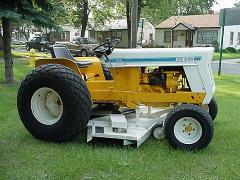 Cub 154 Lo-Boy
International Cub 185 Lo-Boy
'74 37001 – 37315'75 37316 – 41240'76 41241 – 43347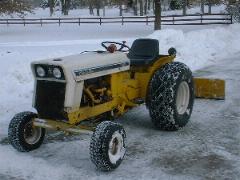 Cub 185 Lo-Boy
International 184 Lo-Boy
'77 43802 – 46162'78 46163 – 48029'79 48030 – ?????'80 49873 – ?????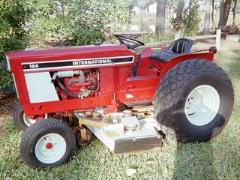 184 Lo-Boy
Over the years there were some changes to the prefix letters on the serial numbers. I have not identified any particular significance to the changes.
---
Do you have other questions about the farmall Cub? Check page 2 of the ATIS Cub FAQs.
Less Frequently Asked Questions
Photographs used to illustrate this FAQ have been provided by a number of Cub and Lo-Boy owners from throughout the country. The photographer of each picture, and often some additional detail about each tractor, can be seen by mousing over the picture. Higher resolution copies of most of these pictures, as well as many other Cub and Lo-Boy photographs can be found at these sites.
Farmall Cub – Home Page
IHC cub loboy series
Data sources are the IH Tractor Identification Guide by Kenneth Updike, the Farmall Cub Parts Book published by International Harvestor and the HotLine Farm Equipment Guide.
---